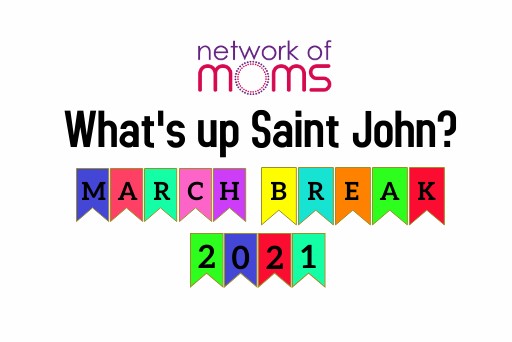 It's been a challenging year for all of our students and I know they are looking forward to a relaxing March Break.
Due to Covid-19 there isn't as much happening over the March Break this year, but there are still a few great activities and camps. It's also very easy to social distance in the great outdoors with tonnes of outdoor skating rinks, hiking / snowshoeing trails (
https://www.hikingnb.ca/
) and lots of sliding hills, which you can find at the Rockwood Park Golf Course and the Westfield Golf Course.
Due to the New Brunswick's Department of Health recommendation of not traveling outside of the Zone you live in due to the current and ongoing pandemic, this list is for Saint John and the surrounding area (Health Zone 2)
March Break Staycation
If you live in Health Zone 2 and looking for a little getaway for March Break but need to stay in your zone, I recommend checking out the
In addition to the 2 night accommodations, the March Break Staycation package includes an amazing buffet breakfast each morning, tonnes of activities such as magic show, belly dancing, movies, scavenger hunt, and even a ghost tour!
My girls call this hotel the castle, as it's huge like a castle with much space for the kids to explore, and our favourite part…. the indoor pool and thrilling waterslide are OPEN.
Looks like they also have an outdoor firepit in the winter to keep toasty warm while getting fresh air. I'm packing marshmallows!!!
If the weather is mild over March Break (here's hoping!) you may want to check out the wooden playground at the Vincent Massey Elementary School at 166 Frederick Street while in St. Andrews.
Also, just 5 minutes away from the Algonquin is the Huntsman Marine Science Centre & Aquarium.
The Aquarium is open 10 am to 5 pm Saturday, Feb 27th to Sunday, March 6th. During this time, advanced reservations are required and children are free with adult admission. Please see info below.   Register here: https://www.huntsmanmarine.ca/
Now this is a unique March Break Activity that I'm excited to try out this year! You can now rent
The Shacks
conveniently located in the ice fishing village of Renforth, just outside Saint John.
Each Shack holds up to 6 people, comes with 4 pre-drilled fishing holes (which if you've gone ice fishing before you'll appreciate not having to drill those holes yourselves!)
No need to rush out and buy equipment or fishing gear, your rental comes with 4 fishing poles, bait, a tackle box, and even wood to keep the wood-burning stove stoked.
Let's make the most of our Canadian winter living, where sometimes it's so cold your face hurts. However, I guarantee this won't happen inside these ice fishing shacks!
This is a great family outing in a safe, private environment and will be fun for all ages. I have my reservation for March Break, maybe I'll see some of you out there?
RESERVATIONS:
https://theshacksca.wordpress.com/about/
Daily / Week-Long Camps
March Break Cheer Camp
In Quispamsis, Sky Athletics All-Star Cheerleading and Tumbling Classes are offering March Break Camp March 1st to 5th for children age 4 – 12.
They have a flexible schedule where you can register for just mornings, just afternoons, or for the full week.
⭐️REGISTRATION – Head on over to https://skyathletics.ca/day-camps for more information regarding camps and to register!
Sky Athletics is committed to and known for offering fun, productive, and memorable camps!
March Break Art Camp
KV Oasis Youth Centre is hosting an Art Camp this March Break for youth ages 7-12, featuring special guest, local artist Sean Bourque!
Your children will learn about the Art process, from brainstorming and concept work, to sketching and painting! All Art supplies are included, just send your child and their imagination (and a lunch!).
A walkthrough Art exhibit will be on display at the end of the week, so families can see what the kids have created.
⭐️REGISTRATION – Spaces are very limited due to COVID distancing. Email Dev@KVOasis.com now to book your spot!
In addition to art camp, KV OASIS is also hosting a Babysitting Course on March 1st; and a Home Alone Course on March 2nd.
March Break Adventure Camp
The YMCA of Greater Saint John is also offering March Break Day Camp for children age 5 – 12. Exciting adventures with friends, arts and crafts projects, games, sports, and much more await at their 8 locations across the Greater Saint John area. Camp runs from March 1st – 5th from 7:30 AM to 6:00 PM. Cost $153.00 + tax. https://www.facebook.com/SaintJohnY/
Locations:
Irving Oil Field House

Millidgeville YMCA Community Centre

Quispamsis QPLEX

Saint John Regional Y

St. George YMCA After School Program

West Side YMCA After School Program

YMCA Early Learning Centre

Forest Glen YMCA Community Centre
⭐️REGISTRATION: To register your child for the YMCA March Break Adventure Camp, please visit: https://saintjohny.ymca.ca/event/march-break-adventure-camp-2021/
Movin' Munchkins
is coming to YOU this March Break! With pop up classes happening Saturday March 13th on the Marr Road in Rothesay. Classes are selling out quick but there are spaces left in the Munchkin & Me class, Independent Munchkin class and Family Class
March Break fun is happening at the Carleton Community Centre sponsored by the Boys and Girls Club of Saint John. Parents can register their kids by contacting Madelynn by phone at 506-658-2920 or email madelynn@carletoncommunitycentre.ca. Programs are for ages 6-18yrs, with lots of winter carnival March Break fun to be had! Final details yet to be announced.
Have a child who loves to dance?  The Studio Dance School located on the Clark Road in Rothesay is offering March Break Dance Camp. For more information or to register call (506) 849-5299 or visit them online at https://thestudiodanceschool.net/
If acting, musical theatre, and dance are what catch your child's attention, check out InterAction School of Performing Arts located in Uptown Saint John. https://www.iactspa.com/march-break-camps
Camp Glenburn Winter Fest is happening on March 6th!
Activities Include Sledding (please bring your own sled), Snow Fort Building, High Ropes and Climbing Wall & Beach Bonfire with Hot Chocolate and more! Event info: https://www.facebook.com/events/756665328621694/
Snider Mountain Ranch March Break Camp is a camp experience like no other! This camp runs during March Break, from Sunday, February 28 until Wednesday, March 3rd. This will be a camp filled with unique seasonal activities such as ice skating and sledding, fun camp-wide games, bonding with your cabin and, of course, horseback riding!  https://www.snidermountainranch.ca/register  SOLD OUT
Love to ski or snowboard?
Poley Mountain March Break Camps are 3 days long and sessions are for first-timers to experts and available for those 3 years to adult for skiing and from 7 years to adult for snowboarding. Registration is required. https://www.poleymountain.com/holiday-camps 
If you wanted to grab lunch while out and about, don't forget to take a look at where Kids Eat Free!
If you have friends with children, please share so they don't miss out on the fun. Keep checking back as the post will be updated once more events are published.
Happy March Break!
P.S. If you're a mom and not already a member of the local Facebook group Network of Moms, I invite you to check us out. We have a great group of supportive moms where you can ask questions and lean on other moms for support and encouragement regardless if your kids are newborn, toddlers, school-aged or teens. Join the group and maybe even meet some new mom friends. 
Dads are important too, did you know they have their very own 100% dad group? They sure do, it's called Network of Dads.