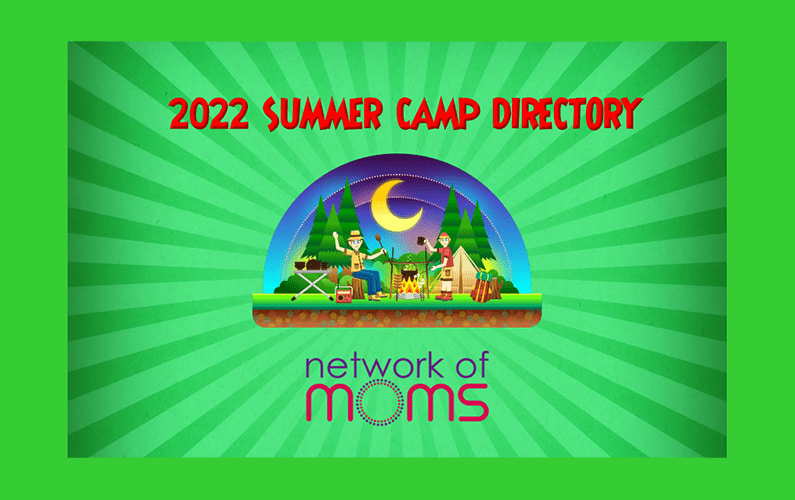 Summer Camp Directory 2022.
This year has flown by and summer vacation is just around the corner!
There are so many amazing day camps (and overnight ones too) in our local area and all over New Brunswick! 
---
Fundy Gymnastics
Fundy Gymnastics Club is offering Morning Only Gymnastics Summer Camps for girls and boys ages 5 – 13 years, starting Monday, June 27th straight through until the week of Monday, August 15th.
Located in Quispamsis in a fully equipped, climate-controlled facility and supervised by a qualified coaching staff.  Their goal is to provide a safe, fun learning environment that utilizes gymnastics as a medium for motor skill development, strength training, flexibility, enhancement, and positive child development.
Campers will be placed into groups based on age and experience to ensure that they have the best opportunity to grow and develop.
Gymnastics Camp is a great way to stay active over the summer holidays and meet new friends!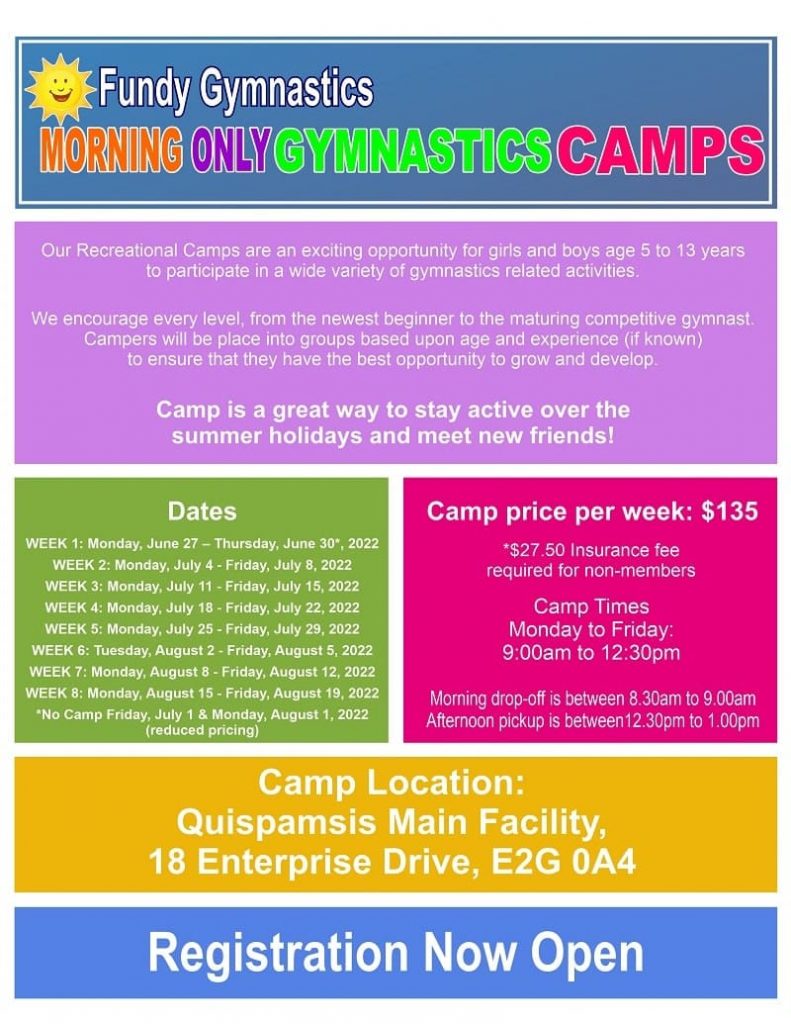 ---
Snapology Summer Camp
If you like LEGO bricks, you will love this. Snapology programs and camps are fun, social and educational.  Your kids will have a blast making new friends and tackling S.T.E.A.M. projects. Their camps keep kids' brains engaged and active all summer, they will have so much fun they wouldn't even know it's educational!
Some popular programs:
-Pokemania
-Mining and building
-Amazing Race
-Robotics
-Superstructures
-Superheroes and many more
With many locations to choose from, there is a Snapology camp near you:
Fredericton
Oromocto
Grand-Bay Westfield
Quispamsis
Sussex
Moncton
Shediac
St. Andrews
Snapology not in your area? Contact us
Register online to reserve your child's spots (
Click Here)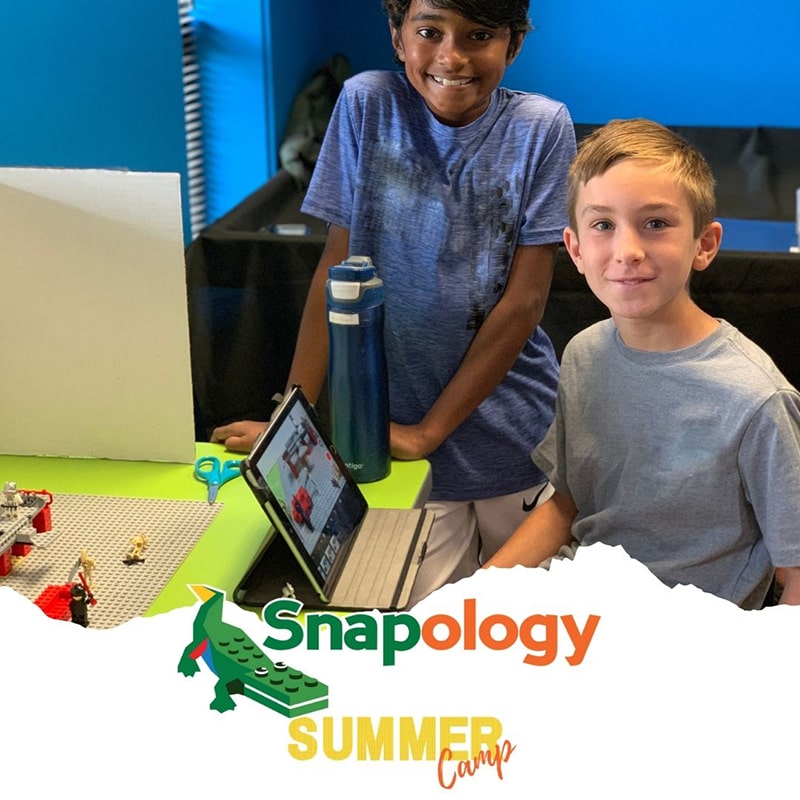 ---
Canada Games Aquatic Centre Splash Camp
Dive into fun with the Canada Games Aquatic Centre this summer! Splash Camp offers children days full of fun activities, games, and splashing around in their amazing pools and includes swimming lessons from trained and certified swim instructors.
Splash Camp is designed for children ages 6 to 12, and is available for 9 weeks from June 27th to August 26th.
To learn more and sign up, visit: https://aquatics.nb.ca/camp/splash-summer-camp/ or call (506) 658-4715.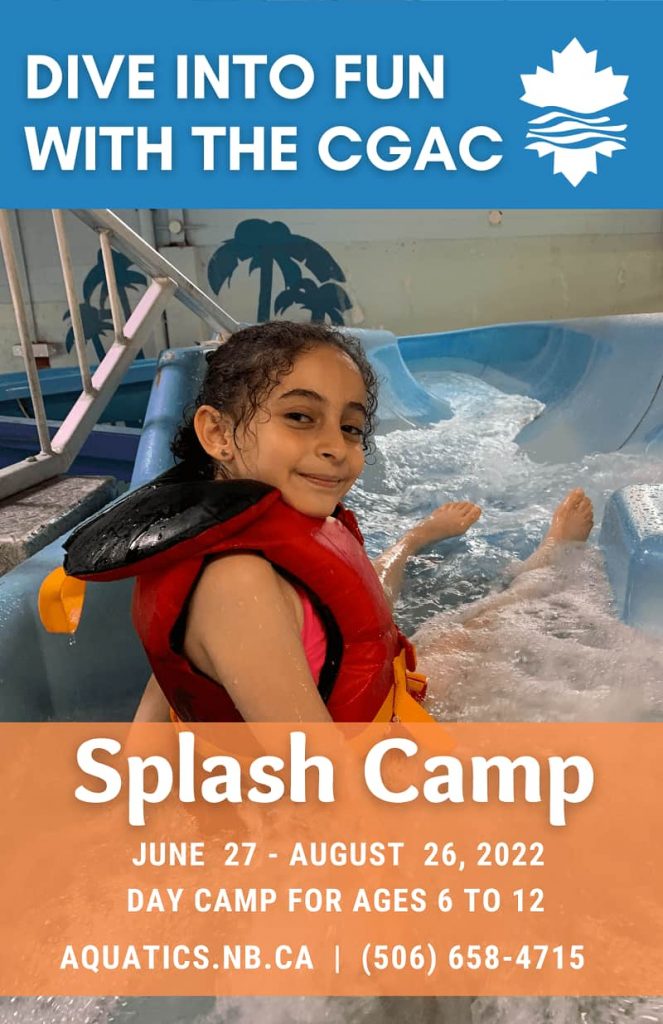 ---
Alison Dawn Voice & Music
Join Alison Dawn Voice & Music for another summer of singing, playing, acting and fun! They have camps and classes running for children aged 5 months to 13 years!
Spaces are limited in each session so every child is seen, celebrated and given the encouragement to grow! At ADVM, your child is more than just a number. They will get the attention they deserve!
To learn more and claim your spot, read below and visit www.alisondawnvoice.com/summer
MUSICAL THEATRE CLASSES with Alison
Weekly on Tuesday evenings at 6:30pm, June 29-Aug 3
Ages 5-8
$180
Join Alison for a six week singing class of singing, acting and dancing! It is designed to help young, beginning singers find their voice through the fun vehicle of musical theatre! Students will gain confidence using their voices and discovering their acting skills through fun games, activities and Disney & Broadway songs.
POP STARS SINGING CLASS with Alison
Weekly on Tuesday evenings 7:30pm, June 29-Aug 3
Ages 9-15
$200
Join Alison in five weekly classes where we will learn about pop singing technique, microphone use, performance technique, and most importantly, how to feel confident doing it! Every student will also get a half hour private coaching with Alison and receive feedback on their song of choice, and learn about basic vocal technique and voice health for singing in this style. No experience is necessary!
PIANO CAMP with Elizabeth
July 4-8
Ages 5-8
$150
Join Elizabeth and Alison Dawn Voice & Music for a hands-on, half-day camp centered around exploring the piano and music! Campers will be introduced to the piano through group games and activities, and each child will be given solo practice time on our piano and keyboards in the studio.
SHOWCASE CAMP with Alison
July 11-15 (Mary Poppins) or July 25-29 (The Lion King)
Ages 9-13
$275 (includes costumes)
We're going to put on a musical! Singing, acting, dancing, costumes, sets and more! We're going to do it all! If your child loves to perform and loves musical theatre, this is the camp for them!
SINGING & ART CAMP with Alison
July 18-22 (Animal Kingdom) or Aug 1-5 (Holiday Fun)
Ages 5-8
$150
Students will discover their singing voices and self expression, play games, sing songs and do arts and crafts all morning long! We have two themed weeks for this summer, guaranteed to please!
BABY, TODDLER & KINDER MUSIC CLASSES
Weekly classes, see website for class times
Ages 5m-6y
$150 for the 12 week term, May-July
Join Alison Dawn Voice & Music in music classes designed to help children explore their singing voices, rhythm and music appreciation through fun & interactive games, action songs and movement activities. Some drop in rates will be available if space in the classes permit.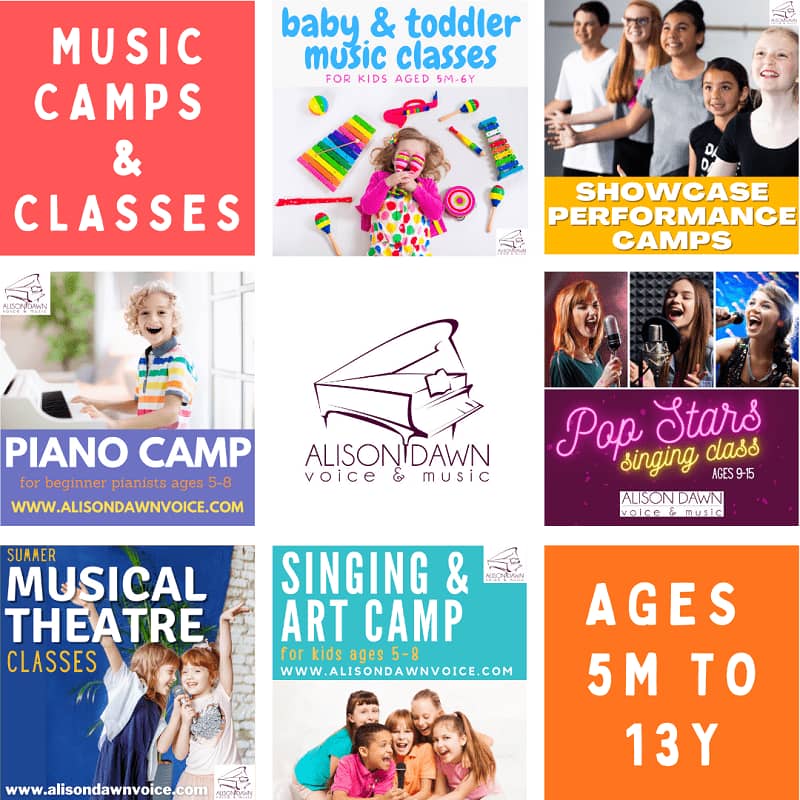 Mad Science of the Maritimes
Mad Science has been offering FUN, hands-on, educational summer camps for over 15 years.  These summer camps are designed for children ages 5-12 that are a combination of in-class discovery and exploration, games and physical activities, and hands-on applications of the scientific principles presented. Your child will be able to touch, see, hear, smell and taste what science is really all about.
This year, camps will be held in July and August in Moncton, Riverview, and Halifax.
Themes include: Crazy Chemistry, CSI Mad Science, and Rescue Mission Planet Earth.
Camps with Mad Science always fill up fast, so register early!
Please visit maritimes.madscience.org for all the details and to register.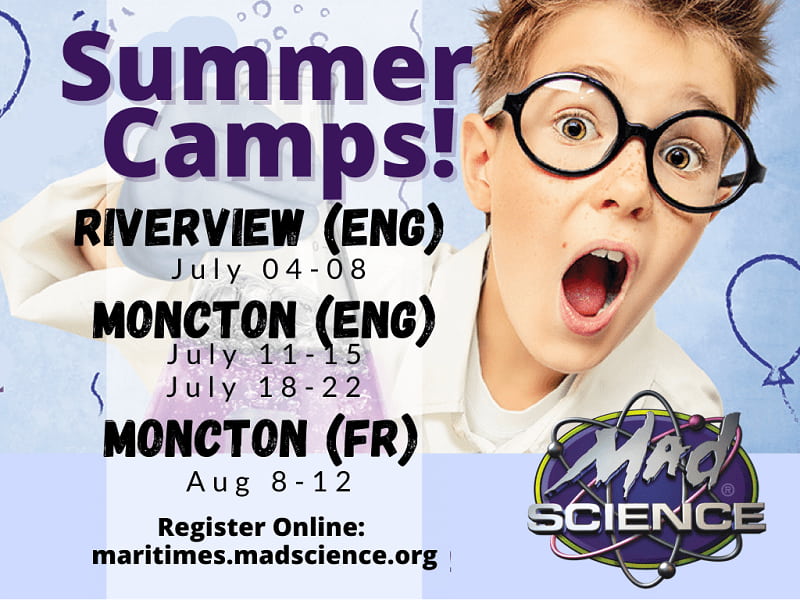 YMCA of Greater Saint John
Registration for YMCA Summer Day Camps is now open!
Keep your kids active and entertained during the summer break while helping them grow and learn! YMCA Summer Day Camps offer children, ages 5 to 15, fun-filled days of activities like swimming, arts and crafts, sports and games.
With nine locations to choose from, watch your child's confidence grow as they make new friends, have fun, develop skills and create positive life-long memories!
Summer Day Camps are available for 10 weeks from June 27 to Sept. 2 and each of their nine locations has something unique to offer your child. Choose from more than 40 camp themes and make this the best summer ever!
To learn more and sign up, visit: https://saintjohny.ymca.ca/camp/day-camp/summer-day-camps/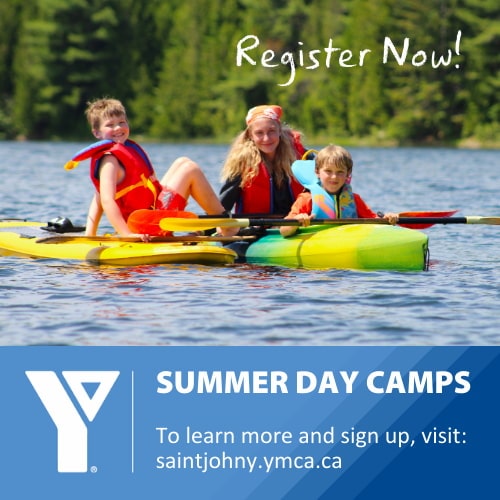 ---
The Studio Dance School
Have a child between the age of 4 and 12 that loves to dance?
The Studio Dance School located on the Clark Road in Rothesay is offering dance camps starting July 4th through to August 12th.
Weekly themes from such as Encanto, Dance Party, Disney and more.
Full-day and half-day options available, and discounts for multi-week registrations.
For more information or to register call (506) 849-5299 or visit them online at www.thestudiodanceschool.ca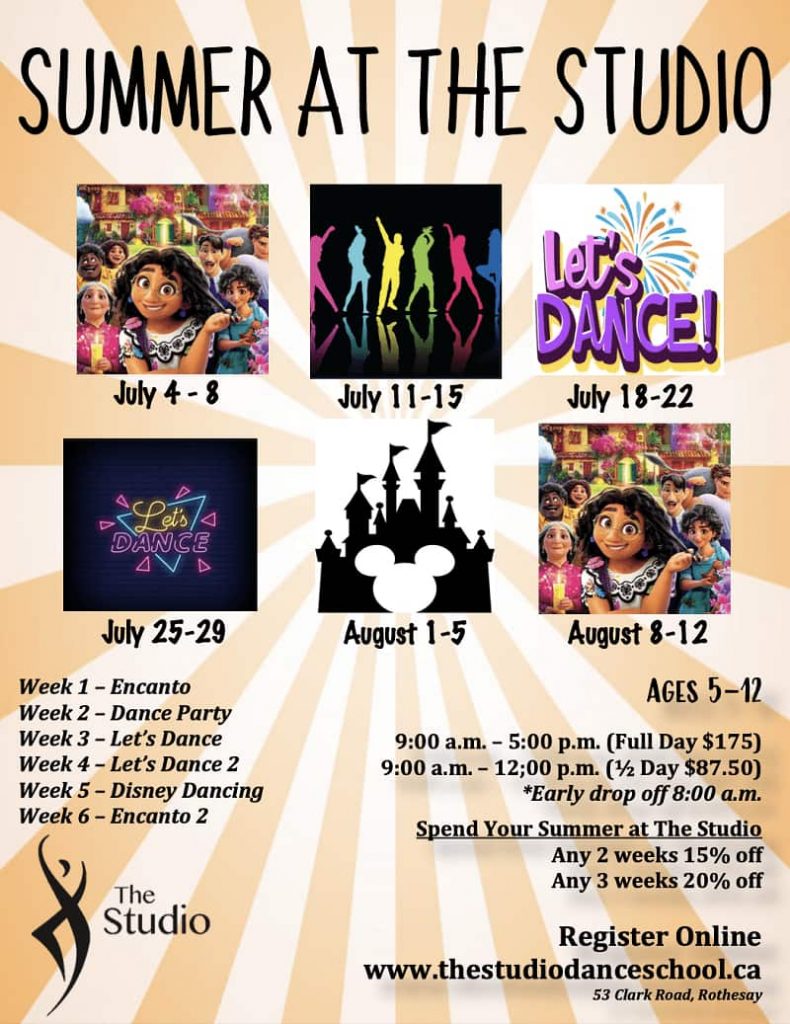 ---
The Boys and Girls Club of Greater Saint John
This summer, at the Boys and Girls Club Survival Camp, children will explore the great outdoors and learn basic survival skills.
These skills include fire starting, shelter building, water filtration, First Aid & CPR, animal tracking, plant identification, and more!
Camps are taking place at the Bradley Lake Community Centre and there are spots available for children in grades K-8! Register online at
www.kidssummercamp.ca/registration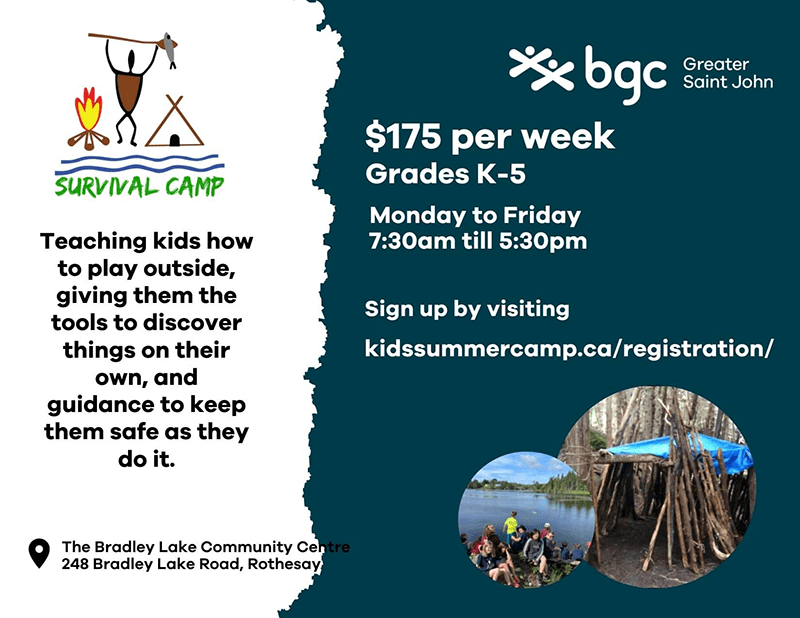 ---
KidSing Performance School
Do you want to join KidSing summer camps? Here are some reasons why you should be part of the KidSing family this summer:
1. Day camps offer early drop off (7:30) and late pick up (5:30) at no extra charge.
2.  They end each week with a live performance.
3. They also offer specialized advanced camps for students in singing, dancing and musical theatre.
4. Weekly day camps have fun filled themes that include music from the latest Disney films and modern pop hits.
5. KidSing's primary focus of each camp is friendship, creativity and confidence. Each day they talk about kindness and how it relates to the activities of the day.
Please visit
Kidsing.ca
for easy online registration. Camps are filling quickly so please reserve your spot now!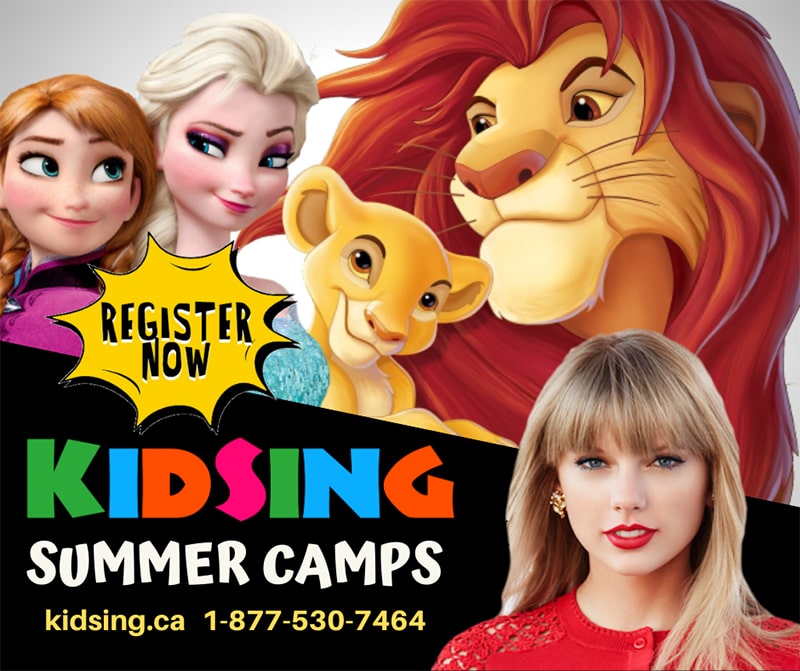 ---
Additional Day Camps
Saint John & Surrounding Area:
Boys and Girls Club of Saint John, Summer Day Camp
Kidsing (Quispamsis, Fredericton & Dartmouth, NS)
InterAction School of Performing Arts
BGC River Valley Youth Centre Grand Bay
Hammond River Angling Association 
UNB, Saint John Sports Camps / Clinics
Ascension Acrobatics Gymnastics Club (Grand Bay)
Huntsman Marine Science Centre / Fundy Discovery Aquarium
Kings Church, Makes Waves – Saint John West
Fredericton Area:
YMCA of Fredericton Summer Camps
Snapology Lego and Robotics Summer Camp
Hartt Island Water Park Adventure Day Camp
Boys and Girls Club of Fredericton
BizzFitness FitKids Summer Camp
City of Fredericton, Free Zig Zag Summer Playground Program 
Northside Youth Centre Skateboard Camps
Village of New Maryland Summer Camp
Moncton Area:
YMCA of Greater Moncton Summer Camps 
Magnetic Hill Zoo Summer Day Camp
Snapology – Lego and Robotics Summer Camp
Capital Theatre drama and musical camps
Moncton Sports Dome Summer Camps
Moncton Sky Zone and Trampline Park
Amp It up Dance Studio (Dieppe)
Greater Moncton Girls Rock Camp
McKenzie College Art & Animation Camp
Outlying Areas:
Sussex Christian School Summer Adventure Camp
Boys and Girls Club of Charlotte County Summer camps
Kingsbrae Garden in St. Andrews 
Overnight Camps:
Inside Out Nature Centre Under the Stars 
Broadleaf Ranch Adventure Youth Camp
Camp Wegesegum (Chipman)
Sandy Cove Bible Camp (Dumfries, NB)
Camp Sheldrake (A Family Camp Experience)
Camp Shiktehawk Overnight Camps
While I did my best to make sure this is an all-inclusive list,  if you know of more New Brunswick Summer Camps happening please send me an email at [email protected] and I'll add to this list.
If you have friends with children, please share so they don't miss out on the fun.
Happy Summer Vacation!
P.S. If you're a mom and not already a member of the local Facebook group Network of Moms, I invite you to check us out. We have a great group of supportive moms where you can ask questions and lean on other moms for support and encouragement regardless if your kids are newborn, toddlers, school aged or teens. Join the group and maybe even meet some new mom friends.
P.S. there is also a 100% dads only group on Facebook called Network of Dads